Out of town for a couple of days. Catching up.
"Donald's pathologies are so complex and his behaviors so often inexplicable that coming up with an accurate and comprehensive diagnosis would require a full battery of psychological and neuropsychological tests that he'll never sit for."
—Mary Trump, in her book Too Much and Never Enough: How My Family Created the World's Most Dangerous Man. [So, Mary, we hope your book tells us something we don't alread know on the Tangerine Toddler.]
"Today I am announcing a surge of federal law enforcement into American communities plagued by violent crime."
–Donald Trump, July 22, 2020. [Fourth Amendment, folks, Fourth Amendment. We're edging dangerously close to becoming a police state here with one person (well, with Barr, two persons) calling the shots. Are you seriously ready for that?
"I'm not afraid, but I am pissed off. This is an egregious overreaction on the part of the federal officers."
–Portland Mayor Ted Wheeler, after being tear-gassed by unidentified storm troopers. [No one will be immune.]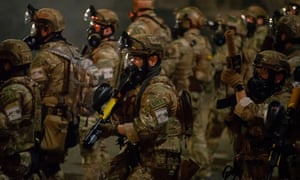 "Republican responds to calling a colleague 'disgusting' & a 'f—ing b*tch' w/ 'I cannot apologize for my passion' and blaming others. I will not teach my nieces and young people watching that this an apology, and what they should learn to accept. Yoho is refusing responsibility."
–Rep. Alexandria Ocasio-Cortez, in response to retiring Rep. Ted Yoho (R-Florida) after he semi-apologized for his misogynistic remarks during a confrontation with Ocasio-Cortez on Monday. [Most probably a God-fearing, family values Republican at that.]
"I really think you could duct tape a spatula to a Golden Retriever's paw, and half of the media would say, 'Oh my God! That dog's a chef!'"
–Comedian Seth Meyers, in criticizing the media for its portrayal of Trump as pretending to take the coronavirus crisis seriously. [Can I get an "Amen" to the media's treatment of Trump as serious about anything?]