The quacks were out in force at today's meeting of the Louisiana Board of Elementary and Secondary Education (BESE) and the spineless board didn't have the courage to enforce a mask mandate. Consequently, an overwhelming number of those in attendance were maskless, brainless, and grossly irresponsible.
Not that they give a damn about the rest of us. Hell, they don't even care about themselves. They're probably still waiting for the Trump reinstatement that they thought was going to take place last Friday.
But apparently, their numbers were enough to frighten the gutless BESE into hiding behind an illegal executive session during which the decision was very likely made to drop any attempt at voting on a mask mandate for schools – a certain victory for Donald Trump and Ron DeSantis chew toys like Jeff Landry.
As an illustration of just how off-plumb these people are, one of them responded to my post yesterday about members of the House Committee on Health and Welfare not wearing masks by calling me a "socialist democrat."
I doubt seriously that individual knows what a socialist democrat is – for that matter, the difference between a socialist and a communist. One would first need to know what each one was before he could distinguish any difference, but here's a clue for the clueless:
If you like fire and police protection, you probably have socialist leanings;
If you want your garbage picked up and your streets repaired, you're something of a socialist;
If you have a retirement plan, then you must be a socialist;
If you have life or health insurance, the programs are based on a form of socialism;
If you are receiving Social Security or Medicare benefits or if you're anticipating them in the future…well, you get the picture.
But back to the BESE meeting today. The attendees, all of whom probably have had immunization for measles, smallpox, polio, flu and other viruses, somehow object to the experimental COVID vaccinations. Hell, all immunizations were initially experimental (I betcha John Wayne had all his immunizations and what could possibly be more patriotically American than John Wayne, who won World War II in the movies but never served a day in the military?)
There was an announcement made that masks should be worn and the audience laughed and laughed. I hope they can still laugh when they're on that ventilator.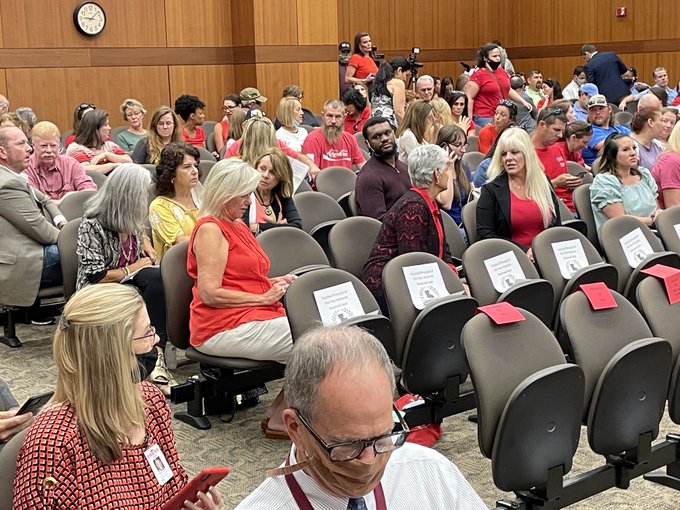 Yeah, I know, the vaccines aren't foolproof. Neither are parachutes, but if I'm going to have to jump out of an airplane, I sure as hell want one on. I'll take my chances on it working as opposed to screaming, "My body, my choice!" all the way down. (And didn't they co-op that expression from women who are pro-choice? How macho!)
Masks? Oh, I know that I can be wearing a mask and if an unmasked, infected person sneezes in my general direction, droplets of germs, virus, and cooties can enter through my eyes. But consider this: If you're naked and someone pees on you, you get wet. If you're wearing pants and someone pees on you, you're partially protected. But if you're both wearing pants and the other person pees, he only gets himself wet. That's how it works. Got it?
The board went into a lengthy executive session at one point.
Once back in open session, the meeting erupted into screaming bedlam when attendees were again asked to mask up. The scene became so chaotic that the online streaming of the meeting was cut – another form of executive session, I suppose, but it seems to me we have a right to watch all of the meeting and not just what the censors want us to see.
Meanwhile, BESE and a gaggle of so-called freedom advocates who more closely resemble Manchurian Candidates merrily gamble with children's lives and BESE makes a mockery of the governor's MASK MANDATE. When all was said and done, the board didn't even have the courage to call for a vote on a mask mandate for schools – a decision doubtless made in that illegal executive session.
I'm sure pseudo-attorney general Jeff Landry is peeing in his pants as he plots his 2023 run for governor.
But before you get too far into your campaign Jeffie boy, I have a couple of questions for you – and for all the self-appointed experts who think they know better than the scientists about what works and what doesn't:
What is your solution to a virus that has killed nearly 700,000 Americans?
What precautions would you recommend?
I'll wait for your answers.