St. Tammany Parish, that bastion of Republican conservatism nestled on the north shore of Lake Pontchartrain, most assuredly has a critical need for a political image makeover.
A few examples of political skulduggery from the parish named in honor of Lenape Chief Tamanend:
But perhaps the unkindest cut of all (with apologies to Julius Caesar) came in the form of a Dec. 17 decision by the First Circuit Court of Appeal that UPHELD an award of more than $450,000 to a 24-year-old man who was raped by a school custodian when he was an 11-year-old, fourth-grade special education student at Abney Elementary School in 2007.
So, why would such an award be considered unkind? For three reasons. First, the very fact that the trial court's award was even appealed by the school board (or that the case even went to trial in the first place, for that matter) and second, the appeal court's decision was by a 3-2 vote when it should have been unanimous.
Justices Ray Chutz and J. Michael McDonald dissented.
And just why do I feel that the school board bears responsibility in this matter?
The doctrine of respondeat superior comes immediately to mind. That's the Latin term for "let the master answer" for actions taken by an employee during the course of his employment.
The school board had taken the absolutely absurd position that the custodian, a fine, upstanding individual named Dino Schwertz, had committed the rape during his lunch break and was not acting within the scope of his employment – even though the attack occurred in a school rest room during school hours and on school grounds.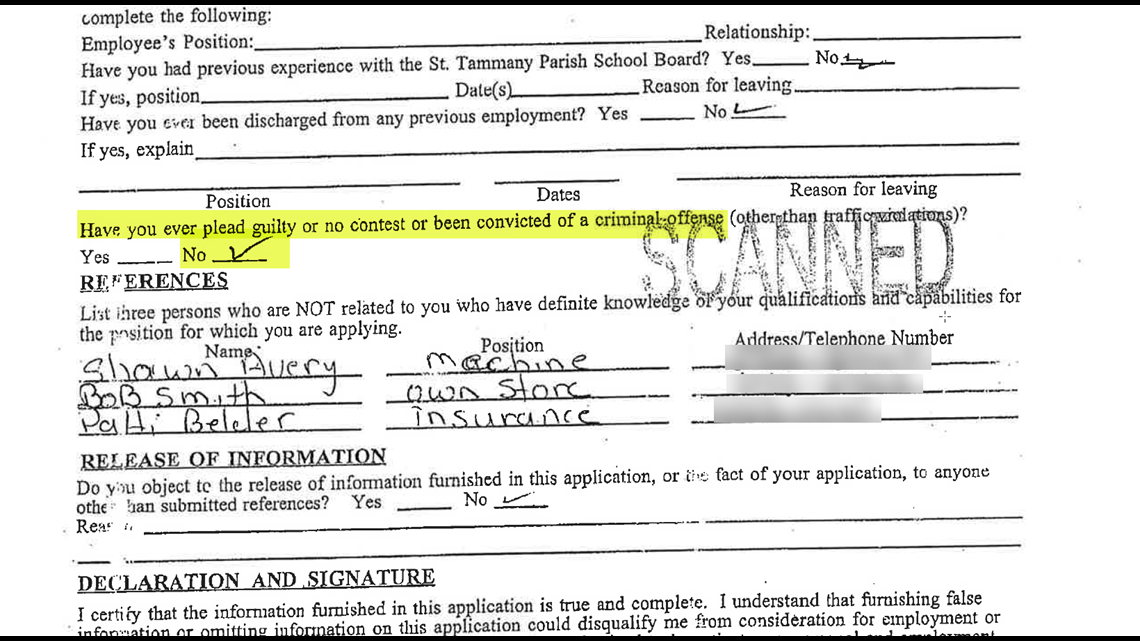 Moreover, the school board, in its appeal, conveniently overlooked the inconvenient fact that it did a pretty crappy job of vetting Schwertz in 2007, who had checked "NO" on the employment application that asked, "Have you ever plead (sic) guilty or no contest or been convicted of a criminal offense? (You'd think school board personnel would know how to spell pled or pleaded – either would be acceptable in the past tense, but not "plead."):
Louisiana law requires schools to conduct criminal background checks on janitors but Schwertz's background check wasn't completed for three months and the law allows temporary employment until the background checks come back.
It turned out that Schwertz was on PROBATION for bank fraud and had a second criminal conviction for violation of a protective order. But the principal who hired him testified that she was never given his background check to review after it was returned to the school board.
It also turned out that Schwertz's stepfather is a Slidell city council member.
Schwertz was convicted in a 2009 criminal trial on charges of aggravated rape and molestation of a juvenile for the assaults on the victim in this case as well as at least four other children at the school who later came forward to say they had been raped or molested by Schwertz (some reports put the number at 14). He is currently serving a life sentence plus 20 years.
The third reason is that even for a place like St. Tammany, with its All-Star roster of corrupt public officials, the school board's defense of the lawsuit represents a classic breach of ethics that, even in a state where ethics flouting is a way of life, went way over the top.
The St. Tammany District Attorney's office prosecuted Schwertz in the criminal rape case cited here.
But when the victim's family sued the school board for negligence, who do you suppose defended the board in the civil proceedings?
Why, that would be none other than Assistant District Attorney Harry Pastuszek, who represents the board through his private practice but who was assigned that job by former DA Reed, who wrote in a LETTER to then-board President Elizabeth Heintz in 2013 that "Harry will continue to provide legal services to the board as he has done in the past."
And during the 2018 civil trial who do think dispatched an associate to the Louisiana State Penitentiary at Angola to take a sworn statement from Schwertz – the same person the district attorney's office had successfully prosecuted?
Again, that would be none other than Assistant District Attorney Harry Pastuszek.
Just to reiterate in order to be sure you understand: The DA's office prosecuted Schwertz, who raped an 11-year-old boy in a school rest room where he worked, and an assistant district attorney who may or may not have had access to information from the school board in the criminal trial or information from the rape victim in the civil trial DEFENDED the board in the ensuing civil lawsuit.
One might normally think the district attorney, knowing one of his assistants was representing the board, would have recused his office from the criminal prosecution. One might also assume that Pastuszek, knowing his boss had prosecuted Schwertz in the earlier criminal matter, would have recused himself from participation in the civil lawsuit.
But this is Louisiana, folks, and we have that wonderful Gold Standard of governmental ethics that protects the citizenry from any official chicanery.