"I think that he would be the most difficult witness I've ever faced because he's simply not truthful. He would clearly not answer my questions so I think, sadly, this is a situation where I think I've heard all I need to hear."
—U.S. Rep. Katie Porter (D-California), on the challenge of questioning Trump.
"I never dreamed I would live through our democracy being this volatile and vulnerable and fragile. I never dreamed it could ever happen. It was not in the realm of possibility and Donald Trump has taken us to the brink of the demise of our democracy. It really is that serious."
—Political strategist Moe Vela, on Saturday.
"Had we used all available tools to uncover the truth, undeterred by the onslaught of the president's unique powers to undermine our efforts?" I know the hard answer to that simple question: we could have done more."
—Former federal prosecutor Andrew Weismann, a member of Special Counsel Robert Mueller's team that investigated Donald Trump, in his new book Where Law Ends.
"Mr. Trump wrote off more than $70,000 paid to style his hair during 'The Apprentice.'" 
—The New York Times, reports on 18 years of Trump's tax returns. [Boy, did someone get "clipped" on that $70,000.]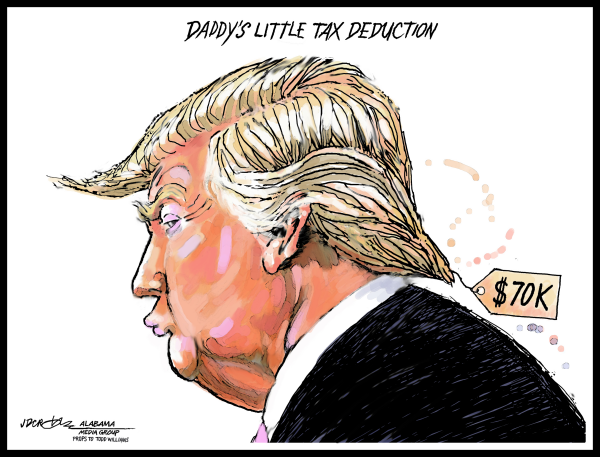 NOT A TRUMP QUOTE, but it should be (with apologies to Cavin & Hobbes)
"I understand my tests were popular reading in the teachers' lounge."