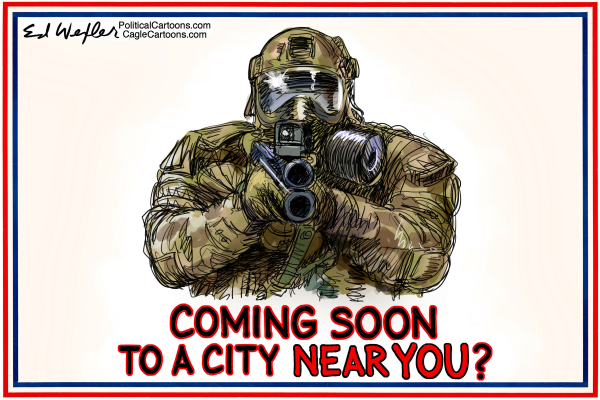 Just in time for the 2020 presidential elections
Martial law. Federal occupation. Storm troopers. Suspension of the First, Third, Fourth, Sixth, Eighth, Ninth, Tenth, and possibly even the Second Amendments.
A bit dramatic? A conspiracy theory? Perhaps. But perhaps not. It certainly can't be any wilder conspiracy theory than some we've already seen espoused by the right-wing kooks: Pizzagate, Wayfair, staged mass shooting at schools with actors playing student victims.
But for a real-life conspiracy, look at what's already happened in Portland and now Donald Trump is threatening similar actions in Chicago, Detroit, Washington, D.C., Baltimore, Oakland, Philadelphia and Albuquerque and other "lawless" cities run, coincidentally, by Democrats.
And just in time to disrupt the November presidential election. Talk about an October surprise…
Trump, the "law and order" president, reminiscent to the "law and order" Richard Nixon, laments the loss of control over crime run amok in those cities as his justification for sending in the brown shirts. And of course, his 35% base cheers him own like the good Christians they profess to be. I mean, what's more demonstrative of Christian love and charity for your fellow man than watching unidentified federal agents in unmarked vans cracking heads with batons?
And that's just for the graffiti-sprayers. God only knows what happens to those who dare commit real crimes.
Kind of ironic, isn't it, that it was the right-wing conservatives who originally were so terrified of the "jack-booted thugs" who would come to take us away in the middle of the night?
But I digress.
If you think those people in Portland are bad enough to warrant deployment of nameless, faceless storm troopers acting in the name of Trump (make no mistake, this is his show, no one else's), then let's compare crime rates of other cities.
We'll start with Portland since that seems to be the epicenter of the federal crackdown for the time being.
In Portland, you have a horrific violent crime rate of 5.2 per 1,000 population. Shocking. It makes Portland the third least safe city in the entire state of Oregon. No question something needed to be done to bring the thugs under control. I mean, who would want to live in a state's third most dangerous city?
But then there are all those other lawless cities whose violent crime rates are even higher:
Albuquerque: 14 per 1,000 population;
Baltimore: 20.per 1,000;
Detroit: 21 per 1,000;
Dallas: 41 per 1,000
Philadelphia: 51 per 1,000
Houston: 52 per 1,000
Washington, DC: 56 per 1,000
Jackson, Mississippi; 56 per 1,000
Atlanta: 58 per 1,000;
Oakland: 75.5
Trump cited most of the above cities by name but there are also these cities, all located in rock-solid red states that also have higher violent crime rates than Portland.:
Tulsa: 11 per 1,000
Nashville: 11 per 1,000
Wichita: 12 per 1,000
Indianapolis: 13 per 1,000
Milwaukee: 14 per 1,000
Little Rock: 14 per 1,000
Cleveland: 15 per 1,000
Kansas City, Mo.: 16 per 1,000
Birmingham: 19 per 1,000
Memphis: 19 per 1,000
So, will Trump send in the troops to those cities as well? They are, after all, hotbeds of crime when compared to wide-open Portland.
For that matter, there are no fewer than 10 Louisiana cities that could qualify for the unwanted presence of federal "law and order" crackdowns similar to those we've seen on television from Portland. That's because all ten have violent crime rates far exceeding that of the Oregon city.
They are:
Baton Rouge: 66 violent crimes per 1,000 residents (Louisiana's most dangerous city and second only to Oakland among the 30 cities listed here);
Shreveport: 61 per 1,000;
New Orleans: 59 per 1,000;
Lake Charles: 56 per 1,000;
Lafayette: 53 per 1,000;
Hammond: 40 per 1,000;
Monroe: 22 per 1,000;
Crowley: 16 per 1,000;
Bogalusa: 13 per 1,000
Natchitoches: 12 per 1,000
Are you ready to see jack-booted thugs tear-gassing your favorite aunt or uncle as they try to vote this November?
That's what these federal occupation forces are really all about—voter suppression.
With the exception of the smaller of the Louisiana cities, the vast majority of the 30 listed here have Democratic-leaning citizenry, many of whom are African-American. Those are the ones Trump and his Republican enablers like Steve Scalise and Clay Higgins are desperate to keep from voting on Nov. 3rd.
Forget the "law and order" rhetoric of Trump. That's a distraction, a diversionary tactic, just as it was with Nixon, who employed it to deflect Americans' attention from Watergate. Trump likewise wishes more than anything to get people's minds off the coronavirus pandemic or Russian interference by getting them to focus on some other high-visibility issue. So, like Nixon, he's creating a "law and order" smokescreen to conceal the real issue of his ineptitude and inability to deal with a crisis—any crisis.
And he's deploying his storm troopers to make sure we keep our focus where it should be.
And that could well be the "October surprise" of all October surprises.