"We've never had an empty seat, and we certainly won't in Oklahoma."
—Donald Trump, on Friday, in breathless anticipation of his Tulsa rally.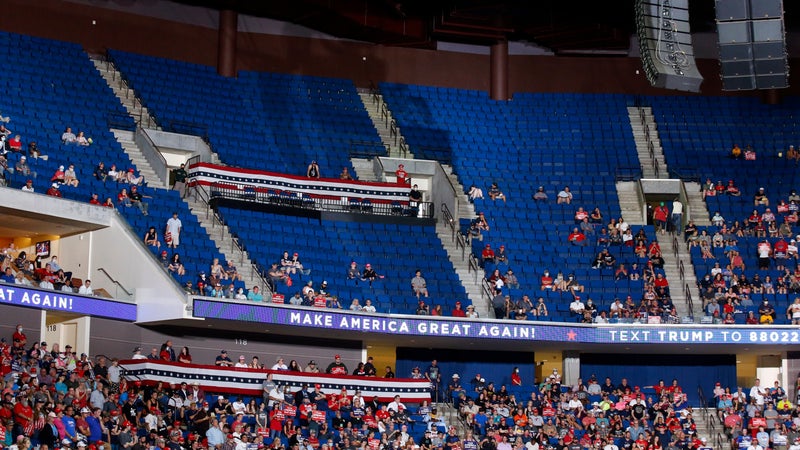 [Photo of massive crowd, disguised as empty (blue) seats]
"My father's rally just ignited a passion for our America First movement — the likes of which I have never seen before. That's why Republican Whip Steve Scalise and I are teaming up to offer ALL PATRIOTS a 500% match to stand with the President."
—Donald Trump Jr. in a shameless email solicitation for contributions that popped up in my in-box this morning. ["Never seen before"? Donnie, you're whistling past the graveyard in using Tulsa as your launch pad—and voters in Louisiana's 1st Congressional District should remember Scalise's fealty to Trump on Nov. 3.
"There is not a more successful political strategy in the history of American politics than the southern strategy, this ideal of pitting poor whites against African Americans and tribalizing our politics. When Trump says he's going to give you back your country, he's playing to that racial animosity and fear."
—Cornell Belcher, a Democratic pollster, on Trump's effort to build support among his white middle class base by pitting whites against African Americans and Hispanics.
"I think you have a lot of people out there who should have been more aware of what was happening around them, the systemic racism that exists in this country. I think those white, suburban, independent women are a vital swing vote, and I don't think they are going to like what they're hearing."
—Christina Reynolds, vice president of communications at Emily's List, on how moderate suburban women have begun to question what they understood about race and racism four years ago.